ABA/Uqbar, Berlin
DE
The silent words are frightening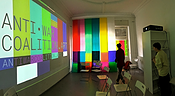 Participants: Piotr Armianovski, Lesia Khomenko, Anna Shcherbyna Moderator: Tatiana Kochubinska
The title of the discussion is borrowed from a poem by Ukrainian poet and active participant of the dissident movement of the 1960s Lina Kostenko who notwithstanding the experienced censorship continued to work. Today in the situation of war, the possibility to continue artistic practice becomes questionable and requires new methodologies. Many artists confess difficulties, or even impossibility to find a coherent language to describe the dehumanizing context that we live in.
The discussion is devoted to how the war influences artistic practice, how it transforms the artistic language, and how it changes communicative tools as such. Does it bring to the total numbness or vice versa the feeling that the end might be a new beginning? Are there any ways to overcome ubiquitous frustration, loss and helplessness and what are the possible artistic strategies inside and outside the contemporary?
The discussion involves artists with different backgrounds and traumatic experiences of war. Someone works with the topic of war for years, someone experiences a deafening shock from a full-scale invasion right now. Nevertheless, all of them question the limits of their own artistic language in a situation where it seems impossible to find words.
BIO
Anna Scherbyna is a Ukrainian artist, curator, and illustrator. In her work, she explores the visual traditions of Ukraine's painting school, historical memory, political aspects of a landscape, gender performativity. She works with painting, drawing, video, and installation.
Lesia Khomenko is a Ukrainian artist and educator. Since 2004 she is a member of the R.E.P. group. In her artistic practice she researches painting as a medium, rethinks the heritage of the socialitic realism as well as personal experiences by deconstructing narrative imagery and creating critical statements.
Piotr Armianovski is a Ukrainian artist, performer and film director. In his oeuvre Armianovski explores the themes of memory, loss, social and symbolic constructs of everyday life.