ZKM
DE
When language is lost. Possibilities of art in the face of war: ONE DAY WITH ANTI WAR COALITION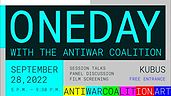 Antonina Stebur,Tatiana Kochubinska. 
What can art do in the face of war? How can we work artistically in the catastrophe of military conflict? What language is there to describe our reality and to cope with the trauma?
"When Language is Lost. Possibilities of Art in the Face of War" explores the perspectives of communicating in a situation where communication as a tool is at stake. The theme day presents selected media artworks by antiwarcoalition.art, the International Coalition of Cultural Workers Against the War in Ukraine.
As an archive and an open discussion platform, antiwarcoalition.art collects, shares, and disseminates artistic statements against the war from around the world. Driven by Russian aggression and war against Ukraine, it provides an opportunity to protest against military violence, dictatorship and authoritarianism. It thereby offers a space to express solidarity with the people of Ukraine and with those elsewhere resisting colonial, patriarchal, imperialist and political oppression and terror.
In three program sections, the event will give insights into the work of the platform in conversation with its initiators, present current exhibits and discuss pressing questions of the day: from the possibilities of art in the face of war, to the medialization of war and the importance of the digital.
With the program focus "It's about Life," the ZKM puts the diversity of life in the spotlight and explores new perspectives on sustainability and coexistence on our planet. Not least the current war in Ukraine shows that today more than ever we need a common examination of the challenges and responsibility for all life on our planet. In this context, the ZKM facilitates projects by and for Ukrainian cultural practitioners to offer them a platform and promote cultural exchange.
Programme:
5 p.m. – 6 p.m.
Presentation of the Anti-war Coalition Platform & screening of selected videoworks.
Antonina Stebur, co-initiator of the antiwarcoalition.art, in conversation with curator Tatiana Kochubinska
6 p.m. – 6.15 p.m.
Break
6.15 p.m. – 7.30 p.m.
"When Language is Lost. Possibilities of Art in the Face of War". Session talks by Nikolay Karabinovych (artist, Ukraine), Laura Huertas Millán (artist/filmmaker, Colombia-France), Vladimir Miladinović (artist, Serbia), Antonina Stebur (curator and co-initiator of the antiwarcoalition.art, Belarus).
7.30 p.m. – 7.45 p.m.
Break
7.45 p.m. – 9 p.m.
Panel discussion with all guests. Moderated by Tatiana Kochubinska.
Organization / Institution
ZKM with the International Coalition of Cultural Workers Against the War in Ukraine