Pavilion of Lithuania. Venice Biennale 2022, Venice
IT
Infrastructures of Care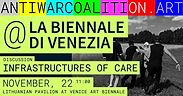 Volha Davydzik, Azar Mahmoudian, Tatiana Kochubinska, Neringa Bumblienė, Antonina Stebur (moderator)
Caring is generally described as invisible, low-paid labor hidden away in a private sphere. However, the pandemic protests around the world, Russia's full-scale invasion of Ukraine has sparked interest in moving concerns from private, serving categories to political ones. As Judith Butler points out, our political activism can only be carried out with the support of our fragile, vulnerable bodies. In such a concept, fragility and vulnerability become not a bug, a weakness that needs to be overcome, but a starting point for our solidarity and collectivity.
The discussion is aimed at comprehending artistic and curatorial practices that are associated with building care infrastructures, criticizing patriarchal political structures for the sake of a more inclusive, diverse, horizontal structure of society.
Participants:
1. Volha Davydzik is a philosopher and researcher. Researcher at Leuphana University of Lüneburg, Germany (Re-building Solidarity and Networks of Care Through Art: Political Art Practices Under Authoritarianism). Since 2018-till 2022-lecturer at Lingnan Normal University, China. Research focus: Theory of nations, national identity/Colonialism, Postcolonialism, Emancipation/Biopolitics /Feminism, Soft tactics of Resistance, Anti- growth Theory, Economics of Care/ New ontology, Forms of Collectives and Solidarity/ Contemporary Art, Cultural Critics.
2. Azar Mahmoudian is a curator and educator. She is currently directing the independent study program The Summer School: For a Summer Yet to Come in Tehran. She co-ran the collective space kaf in Tehran (2010-2015) and co-curated Shifting Panoramas, program of seminars, residencies and production grants in various institutions and off-spaces in Tehran and Berlin (2017-2021). Her curatorial work includes biennial settings as well as long term, research-driven projects, most recently the multi-chapter program of moving image practices, Sensible Grounds at SAVVY, Lux, Fundación Antoni Tàpies, Betonsalon and Nida Art Colony, among others (2018-2021).
3. Tatiana Kochubinska is an independent curator, writer, and lecturer who has worked with the Research Platform of the PinchukArtCentre in Kyiv. As a curator, Tatiana Kochubinska is interested in issues of responsibility, Soviet history and its relation to contemporary society, the psychological state of the individual, and personal memories of the transgressive, crossing borders 1990s. She co-curated Future Generation Art Prize@Venice, a side event at the 58th Venice Biennale in 2019. Tetiana has collaborated with various cultural institutions and also designed online and offline courses on contemporary art. In 2020 she was invited by the Polish magazine Obieg to co-edit a special issue about Ukrainian art.
4. Neringa Bumblienė is a curator, researcher and writer. She has a Master Degree in Curatorial Studies and is an alumnus of the Ecole du Magasin, France. Since 2014, she works as a curator at the Contemporary Art Centre (CAC) in Vilnius, Lithuania. She is the curator of the Pavilion of Lithuania at the 59th Biennale di Venezia with the project Gut Feeling by Robertas Narkus in 2022 and the artistic director of the 1st Vilnius Biennial for Performance Art to be held in 2023.
5. Antonina Stebur (moderator) is an independent curator, art writer, and researcher. She lectures on activist practices in the arts at the Universität der Künste Berlin. Antonina is a co-founder of the #damaudobnayavbytu, the project on gender discrimination in Belarus, a co-founder of the research group on activist art and political performance "Spaika.media", member of the "AGITATSIA" research group. She also is a co-founder of the International Coalition of Cultural Workers Against the War in Ukraine (www.antiwarcoalition.art). Antonina Stebur curated numerous exhibitions of contemporary art in Minsk, Kyiv, Saint-Petersburg, Paris, Chóngqìng, Yerevan and Warsaw. Her writings have been published in Partisan, ArtReview, ARTMargins, Block magazine, SZUM, and syg.ma among others.